Over mezelf
Als gepassioneerd klimmer vond ik dat het tijd was om deze passie te delen met anderen op een manier die bij mij past.
Met mijn achtergrond als master in de bewegingswetenschappen en mijn VTS- diploma binnen de klimsport ben ik in staat om jou op een wetenschappelijk verantwoorde manier naar het volgende niveau te begeleiden.
Naast de wetenschap vind ik een motivationele aanpak van groot belang. Ik zal dus steeds met jou in dialoog gaan zodat we samen duidelijke doelen kunnen stellen en zodat ik rekening kan houden met jouw specifieke wensen. Op die manier blijft de fun aanwezig terwijl er ook hard kan gewerkt worden.
Interesse of nog vragen over mij of mijn aanpak?
Lees zeker verder, stuur een bericht via mail of instagram of spreek mij gerust aan in de klimzaal.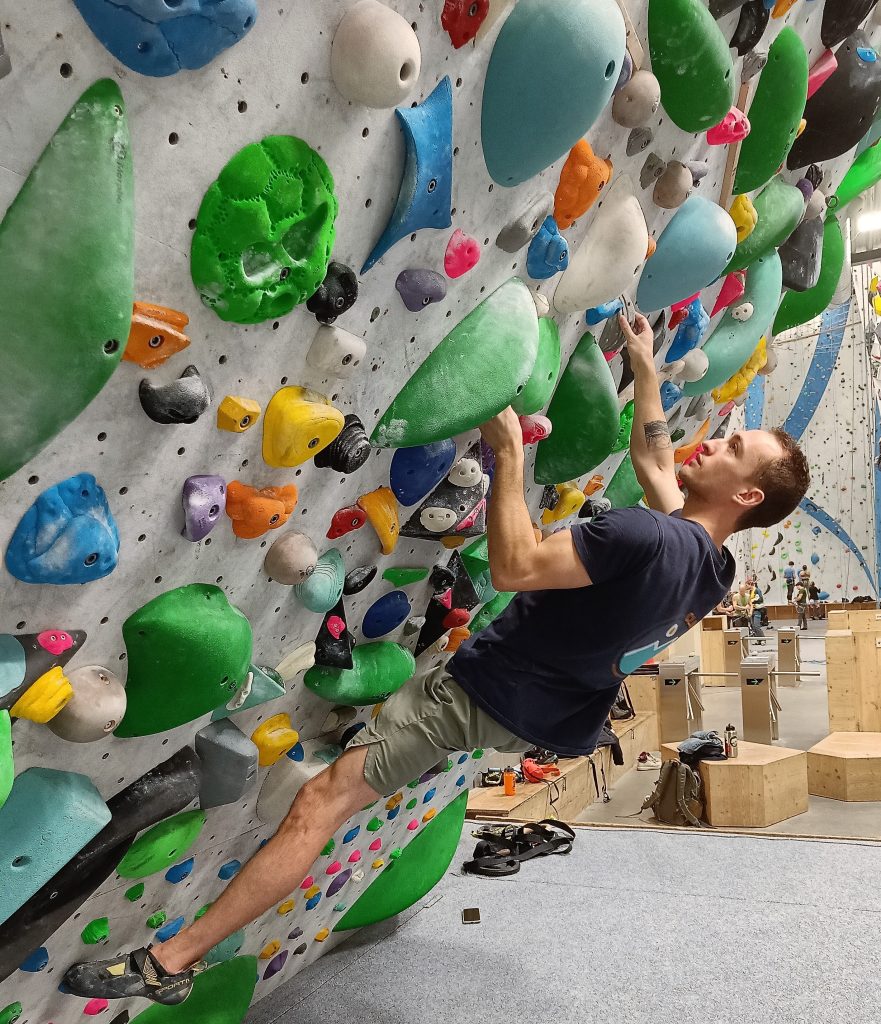 Hoe gaan we aan de slag?
Trainingsschema
Ik werk met trainingsschema's van telkens 3 maand lang. Dit is de ideale lengte om zowel kort op de bal te kunnen spelen en tegelijk voldoende tijd te hebben om je lichaam zich te laten aanpassen aan de trainingsprikkels. Deze 3 maanden worden opgedeeld in blokken van 3 of 4 weken afhankelijk van je startniveau.
Bij elke nieuwe klimmer starten we met een intakegesprek. Tijdens dit gesprek leren we elkaar beter kennen en verzamel ik essentiële informatie voor een goede begeleiding.
Na de intake is er een testmoment. Hier leg je enkele fysieke testen af zodat ik een beeld krijg van wat jouw mogelijkheden zijn en waar je sterktes en werkpunten liggen. Deze data gebruik ik dan om je schema te optimaliseren.
Nu kan ik aan de slag en krijg jij je persoonlijke schema. Hierin staan al je oefeningen per training en de volgorde waarin je deze best uitvoert. Per oefening krijg je ook een link naar een handig filmpje waar je de uitvoering, een aantal aandachtspunten, en manieren om de oefening makkelijker of moeilijker te maken te zien krijgt.
Na elk blok van 3 of 4 weken hebben we een contactmoment. Deze momenten dienen om te bespreken hoe je training loopt en eventueel zaken aan te passen.
Na 3 maand beslis jij dan of je meteen verder gaat met een nieuw blok, een kleine pauze neemt om later verder te gaan of voor een langere tijd zelfstandig traint. Kies je ervoor om verder te gaan starten we terug van bovenaan.
Wil jij heel graag aan je klimniveau werken maar ben je nog niet volledig zeker of een volledig trainingsschema wel iets voor jou is?
Dan is het "test & tips"- pakket misschien wel een leuke start!
In dit pakket voeren we samen een volledige testafname uit, net zoals we dat zouden doen voor een trainingsschema. Nadien zitten we samen en bespreken we jouw resultaten. Tijdens dit gesprek gaan we dieper in op waar jouw sterktes en werkpunten liggen. Bovendien krijg je ook nog enkele goede tips en concrete voorbeeldoefeningen mee zodat jij nadien zelf gericht aan de slag kan met je klimmen.
Beslis je nadien om alsnog voor een trainingsschema te gaan? Geen probleem, je kan makkelijk upgraden zonder extra kost zodat de totale prijs nog steeds 220 euro bedraagt.
Kostprijs
Trainingsschema

Voor 3 maanden betaal je 220 euro:

Het intakegesprek (gratis en vrijblijvend)
Het testmoment (voorschot van 50 euro)
Een schema voor al je oefeningen
Blijvende toegang tot alle demovideo's (ook na afloop van het schema)
Tussentijdse contactmomenten
Test & Tips
Voor het testpakket betaal je 65 euro:
Volledige testafname
Gesprek met analyse van jouw sterktes en werkpunten
Concrete tips en voorbeeldoefeningen
Oefening van de maand
Pull- up